Baby Shower Postage, for a Boy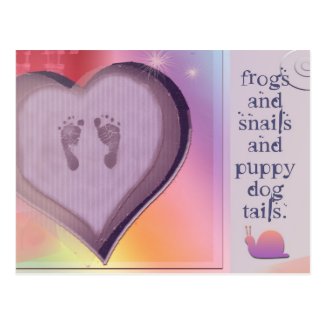 Frogs and snails and puppy dog tails ... that' s what little boys are made of!
Soft rainbow colors with footprints, snails and stars make for perfect baby boy birth announcements.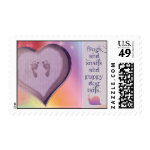 Hosting a baby shower?
Give your baby shower and new baby announcement envelopes some POP with these adorable baby themed postage stamps.
Any design can be customized with mom or baby's name - just let us know. Links open in new window where you can personalize your postage and purchase.
Baby Shower Postage Stamps ... for a boy!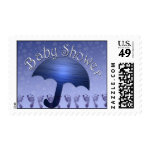 A shiny, deep blue umbrella in a shower of hearts is the focus of this cute "Baby Shower" postage stamp, with a bottom border of tiny blue infant footprints.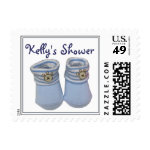 Two blue baby boy's booties are set against a plain white background in this cute baby shower postage. Customize with the new mom's name to make it yours!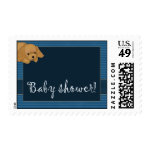 A tiny, sweet brown Cocker Spaniel puppy peeks in at the corner of this blue baby shower postage, for a male baby. Add the mom-to-be's name to make it custom.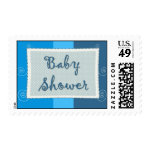 "Baby Shower" is written on a light blue polka dot quilting square against bands of sky, tiffany, and navy blue with thin swirls, in this blue baby shower stamp.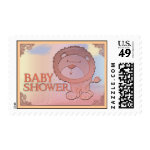 A friendly, cuddly lion with a fuzzy mane is the focus of this Baby Shower postage. Ornate corner details frame a slightly cloudy, beautiful sunset sky.
"Baby Shower" is written in white cursive script against a sky blue patch against a background of rain drops and polka dots in various shades of blue.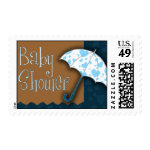 A white umbrella with baby blue hearts against a background of deep navy blue complements a light chocolate brown accent in these baby boy shower postage stamps.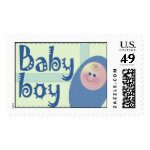 "Baby boy" is written in a fun, whimsical font, with a tiny baby wrapped up in blue like a papoose, a tiny curl on his forehead, in this "baby boy" postage stamp.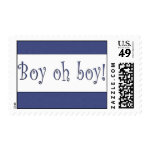 This simple, blue and white boy themed postage stamp has the text "Boy oh boy!" in a fun font with swirls, bordered by wide blue polka dot stripes.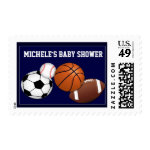 Here's a sports themed baby shower stamp with a baseball, football, soccer and basketball against a dark blue background. Easily customize with mom's name or change text as you see fit.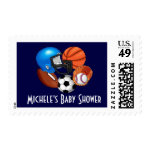 If you're having a sports themed baby shower, here's a cute stamp with a variety of sports in a circle including a football helmet, football, baseball, basketball and soccer ball. White text on stamp can easily be customized to include mom's or baby's name.
This cute little red wagon is overflowing with toys including a sailboat, soccer ball, a basketball and more. An adorable teddy bear is watching carefully over the wagon. Fun teddy bear shower stamp for your baby shower theme!
Baby Postage
Baby Shower
Announcements & More
What Our Clients Say
"Thanks they are perfect!"
Linda, TX (read more)
Request a Custom Design
We'll make it - just for you!