Kid's Birthday Postage
Now you can have the "Perfect Postage Stamps" for your son or daughter!
Customize your birthday cards, postage or stickers with name, birth date or however you like! Links open in new window where you can personalize your child or grandchild's birthday decorations and purchase. FREE Customization - Just add your child's name on stamps to make a special birthday celebration.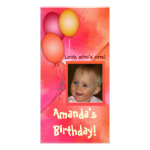 Numbered Kid's Birthday Party Stamps
Shop other Brand Names for personalized postage
Birthday Postage
What Our Clients Say
"Sugar n Spice: the perfect invitation for the perfect unique theme. Designer worked with me personally to create the absolute best work to match my ideas and set the mood."
Toi, NV (read more)
Request a Custom Design
We'll make it - just for you!