UPDATE – Latest intertwined initials …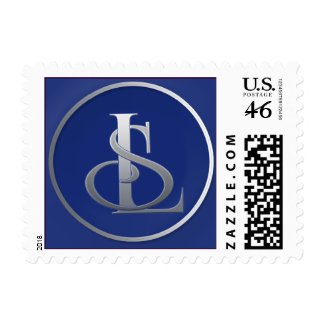 Custom Deep blue and silver monogram by perfectpostage
We've had an unbelievable amount of requests for intertwined initials lately … for the save the dates, wedding stamps, anniversary invitations and wedding logos. Featured below is a sampling of a few of the designs we've created for couples – to match their fonts, colors and style. We love the interlocking initials that show individuality and unity at the same time.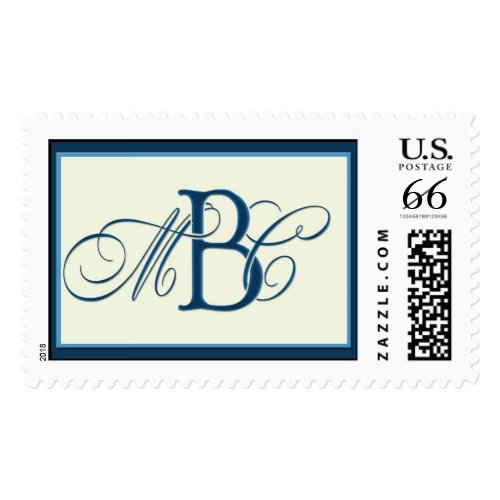 Custom Monogram Postage with intertwined initials Malia & Charles' colors are cornflower blue and ivory and she wanted the interlocking initials to highlight the initial B. (Her invitations were square and requested 64 cent postage.)
.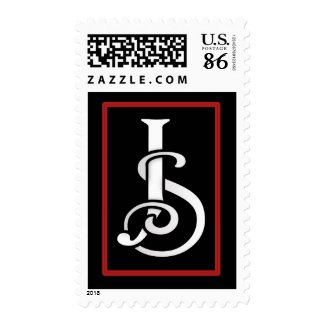 Custom Wedding Monogram Postage J and S Jamie & Samantha have a black, white and red color scheme. She wanted something different for her monogram and loved this playful look.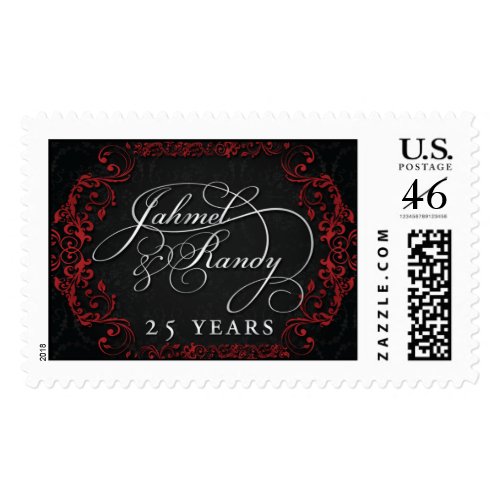 Custom 25th Wedding Anniversary This 25th anniversary couple wanted their names to link together … they used this same design for their invitations.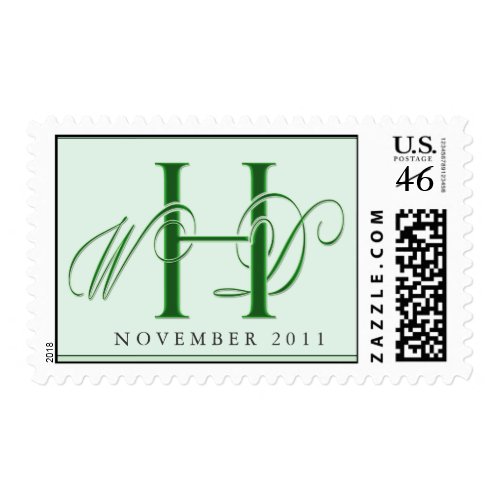 Custom Light Green Wedding monogram Wendy's colors were green apple and white so we showcased the green. Her invitations were very simple and clean so we kept that same look for her monogram. She loved the locking swirls.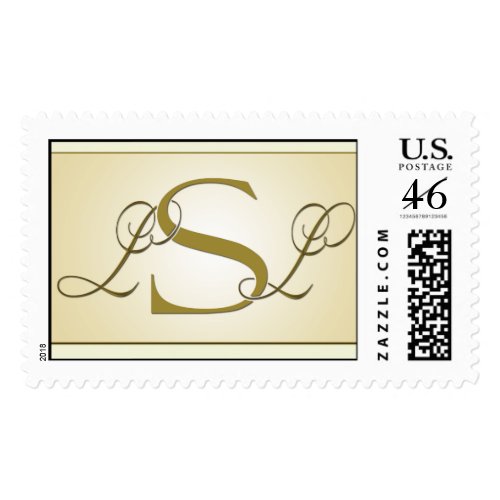 Custom Monogram Postage with intertwined initials Lyle and Laura's monogram featured the cream and tan colors in a simple but elegant design.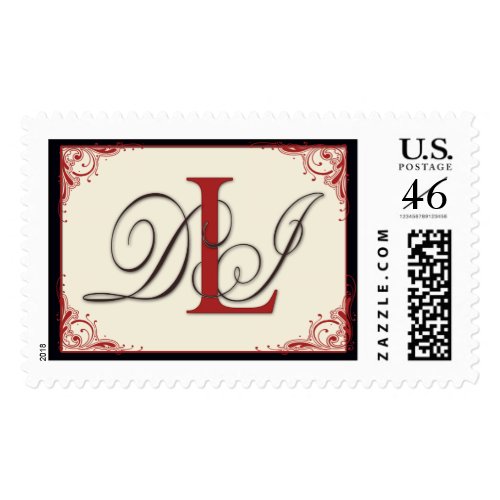 Custom Monogram Wedding Postage Devina & Justin's logo – a black, red and cream color scheme with decorative corners. Both initials swirling around the capitol L.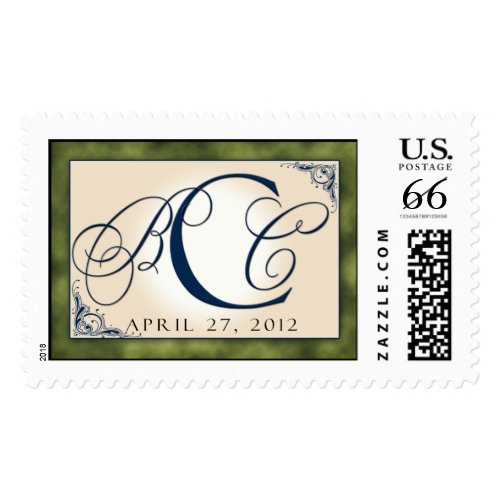 Custom Monogram Wedding Postage Using the corner elements as decoration, we added the wedding date and a muted, romantic green background to this wedding monogram.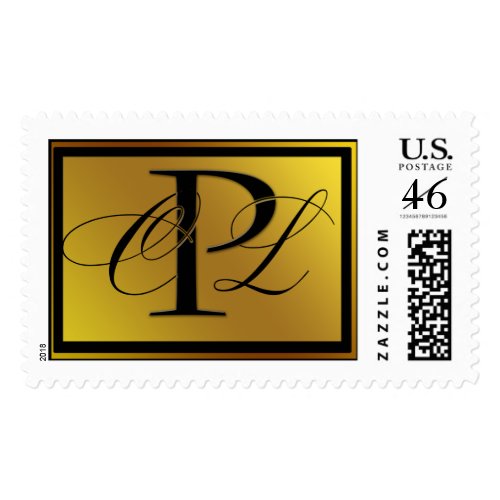 Custom Monogram Intertwined initials Ceci and Luke are avid Missouri Tiger football fans and wanted gold and black featured in their wedding logo.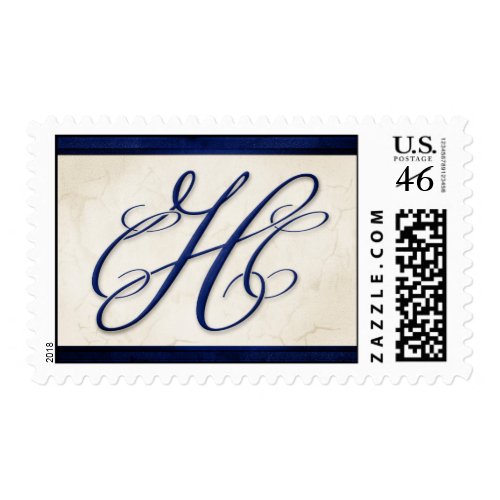 Custom Script Monogram Blue and Cream Wedding Carla requested a fancy script font with a dark blue and cream color scheme. She also wanted a vintage look background. She used this same design on her thank you notes.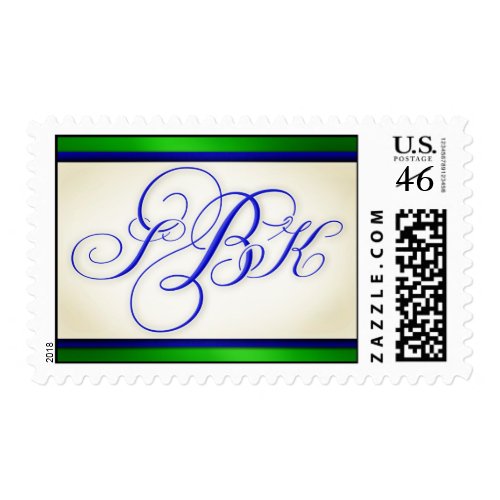 Custom Script Monogram Blue and Green Wedding Sandy's colors are bright green and blue and she loves fancy script calligraphy. We swirled these colors and initials together and she loved the result.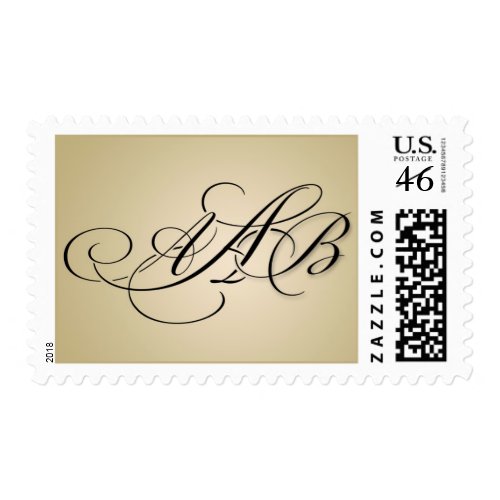 Champagne & Black Monogram Custom Wedding Amanda asked for elegant and simple … black and cream.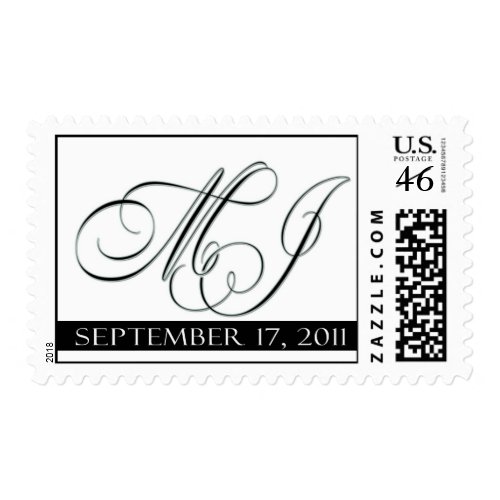 Custom Monogram Wedding Postage Melanie and John wanted their first name initials and wedding date in black and white.
Whose initial comes first in the monogram? Typically the bride's initial, followed by the new last name and then of course, the groom's. If you'd like custom intertwined initials for your monogram postage (or cards, envelope seals or stickers) come visit the designers at Perfect Postage! We'll be happy to create a custom design – just for you!