Who doesn't love celebrating Cinco de Mayo? Certainly the Chihuahua in his Mexican sombrero does! Enjoy these fun designs for a super fun Cinco De Mayo celebration. We hand picked five (cinco) stamps for your enjoyment. We love the margaritas, sombreros, chili peppers and more. May 5th is the date observed to commemorate the Mexican Army's victory over French forces at the Battle of Puebla on May 5, 1862, under the leadership of General Ignacio Zaragoza. Interestingly, the holiday, which has been celebrated in California continuously since 1863, is virtually ignored in Mexico. But we still love the Cinco de Mayo parties!
If you're having a party to celebrate Cinco de Mayo, you will love these fun festive stamps. These come in a variety of denominations from postcard, first class and over 2 ounce mailings. Each sheet of stamps holds 20 postage stamps so you can invite the neighborhood! Easy, peel and stick stamps make a great enhancement to your envelopes. These are real US postage that will certainly make your party invitations pop!
Two Margaritas Postage  Check out the two delicious margaritas with the salt rimmed glass and splash of lime.  Fun design lets your guests know a party is in store!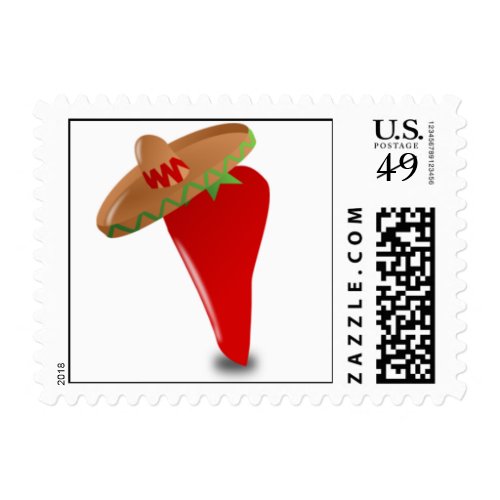 Cinco De Mayo Chili Pepper Postage  Here's a red hot chili pepper dressed up in a tan sombrero with green and red accents.  Cinco de Mayo party invite?  I think so!
Fiesta Min Pin Postage We love the Min Pin in her colorful sombrero with "Ole!" in a cool fun font.  Who wouldn't want to celebrate with this great dog?