Celebration Corsage  – Vintage Wedding Stamp designs from the USPS both in two ounce and forever (currently 49 cents)
How sweet is this design? This year's wedding stamp from the US Post Office features a photograph of an arrangement of pastel colored flowers in cream, rose, pink and white with green accents.
The soft peach petals are reminiscent of an old time photo.  The two ounce wedding stamp – which is perfect for square or heavier wedding invitations – features a gold striped ribbon weaving through the flowers. The forever first class (for invitations weighing less than 1 ounce) features a burlap cone to be held by the hand.   So sweet and romantic – perfect postage for a wedding!
While the USPS designs are certainly charming, you might also be looking for other old time flower designs. We scoured the zazzle stamp designs to find some of the best old fashioned flower arrangements. Here's our findings of wedding flowers on custom postage stamps – one may be perfect for your  old fashioned or shabby chic wedding!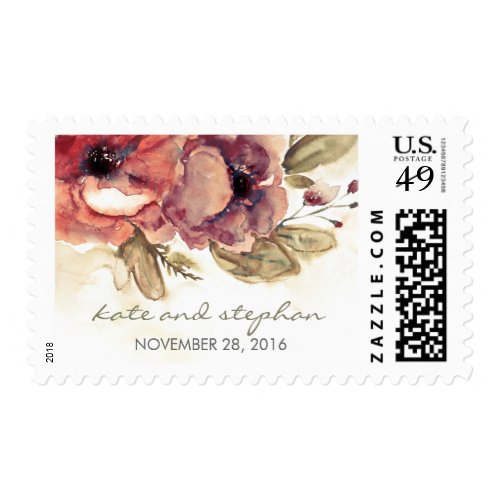 Watercolor design features these lovely pastel flowers
vintage watercolor flowers wedding postage by jinaiji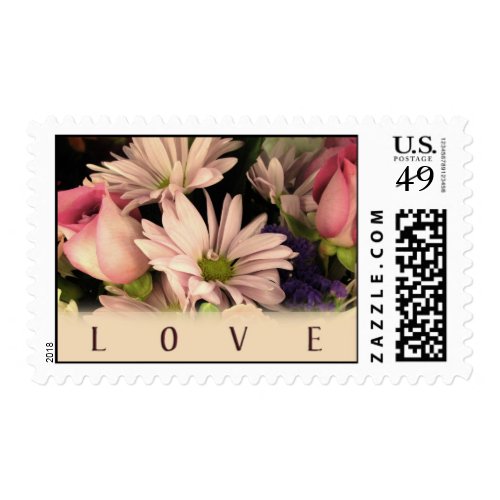 So sweet – floral arrangement made with Love!
Vintage Love Postage Stamps by perfectpostage


A little boho wreath featuring your monogram – easy to edit!
Bohemian Floral Wreath Monogram Stamp by misstallulah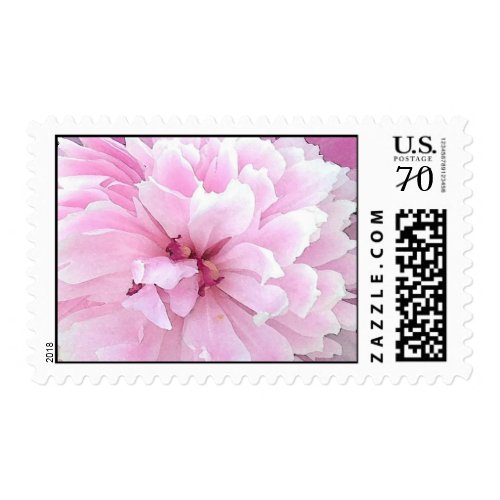 You can just feel the softness of this old time peony flower postage stamp
Old fashioned peonies in watercolor postage by perfectpostage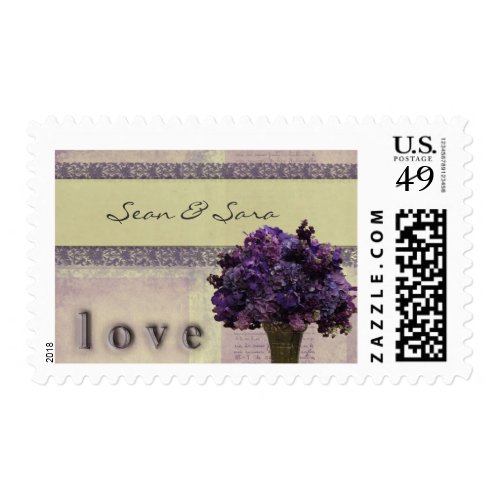 Lovely old fashioned lilacs with the word "love" –  you can personalize this design with your own text.
Old fashioned lilac and pink flowers postage by perfectpostage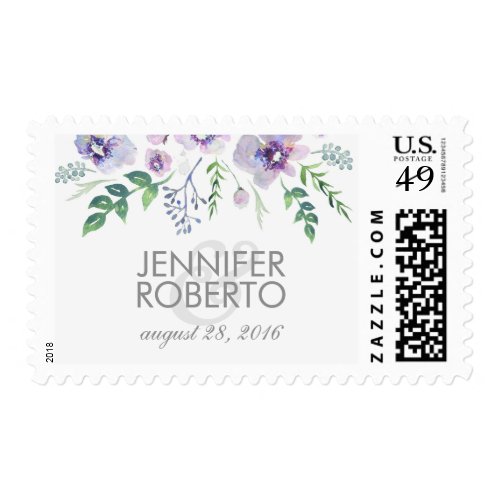 How sweet! Watercolor flowers with your names and wedding date customized – easy to edit!
watercolor floral blue purple vintage wedding postage by jinaiji


Vintage artwork featuring a white rose – perfectly stunning!
White Rose Flower Vintage Art Postage by thegardenpages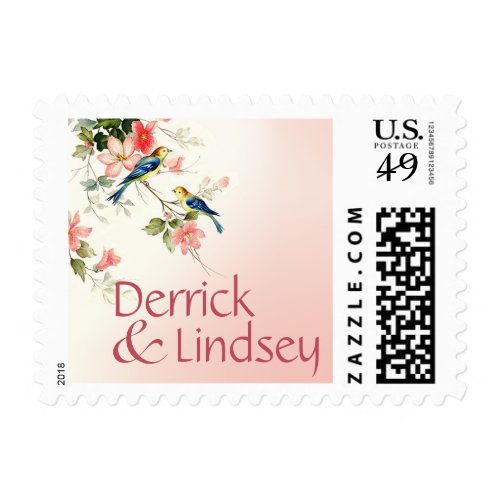 Old fashioned flowers with blue love birds – easy to customize
Vintage Love Birds Wedding | blush pink white Postage by glamprettyweddings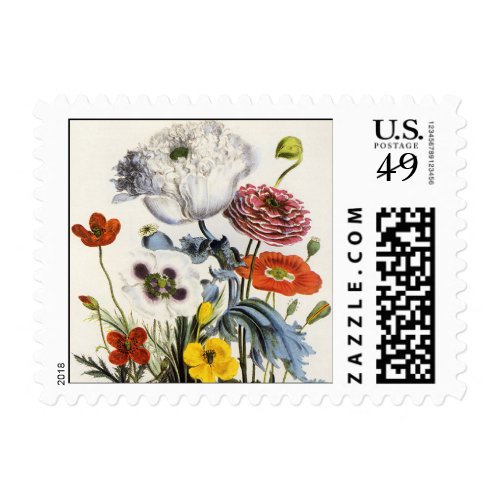 Poppies of all colors in a victorian garden
Vintage Poppies in the Garden, Victorian Flowers Postage by Tchotchke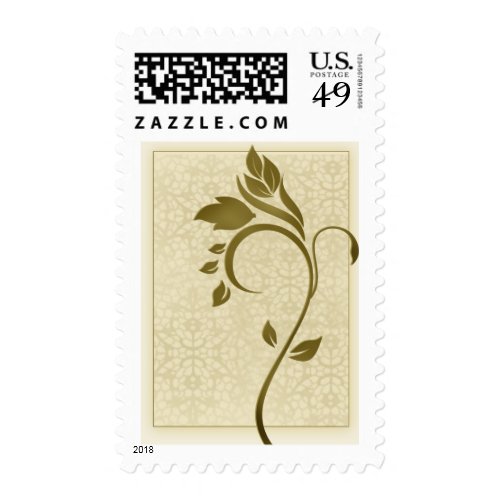 Simple but elegant gold flower with damask background.
Damask background with gold leaf flower postage by perfectpostage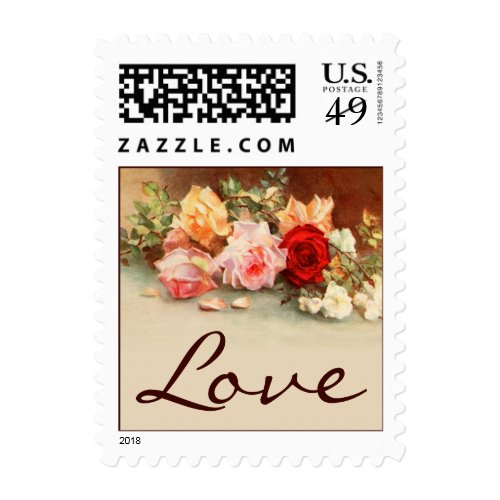 Antique floral arrangement made with love
Vintage Wedding Love, Antique Rose Flowers Art Postage by InvitationCafe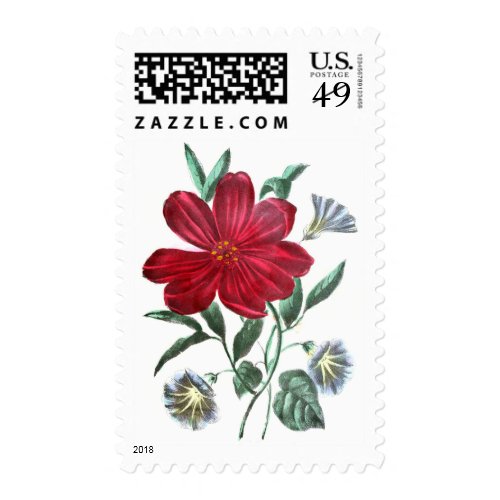 Red morning glory and peony postage stamp
Vintage Drawing: Morning Glory and Peony Postage by TheBooker


Old fashioned anemone flowers with Love front and center
White Anemone Flower Love Postage Stamp by bydandeliondesign


Painting of pink roses with an old fashioned feel
Pink vintage roses painting postage by almawad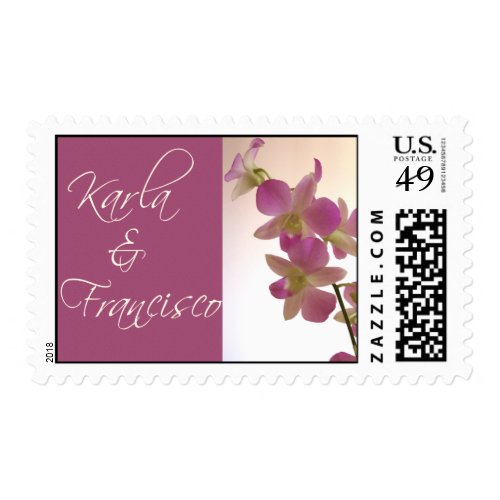 Delicate – and elegant – orchid postage – names are easy to customize
Elegant orchid postage by perfectpostage