Happy 4th of July – time for apple pie, cookouts and of course, FIREWORKS! Bright shooting sparks across the dark sky brings out the American spirit. Colorful streams of blue, green, yellow and wild sparks make for a great celebration.
If you're looking to add some spark to your invitations, why not start with some over the top exploding postage stamps! The stamps come in three sizes: small, medium and large. And while many of these designs are inspired by Independence day, you can customize these postage stamps for your own special event – whether it's a birthday party, wedding, graduation or other ocassion!   You can buy as little as one sheet (20 stamps per sheet). So add some fun – and sparks – to your envelopes!
Here are a few ideas to get started: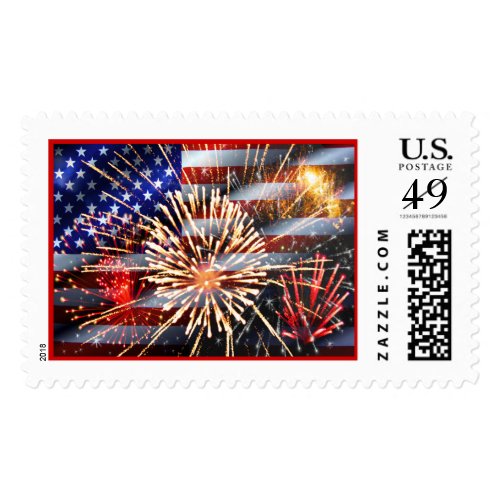 USA Flag and Fireworks Postage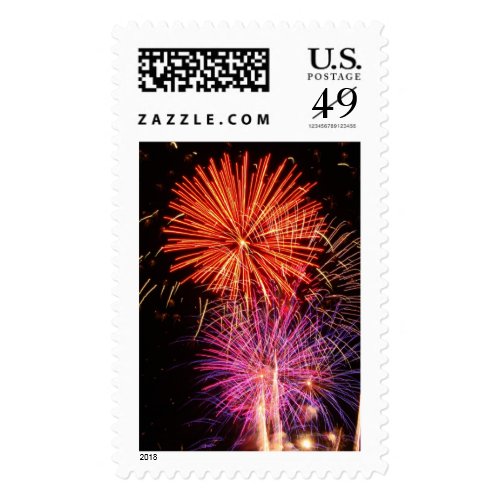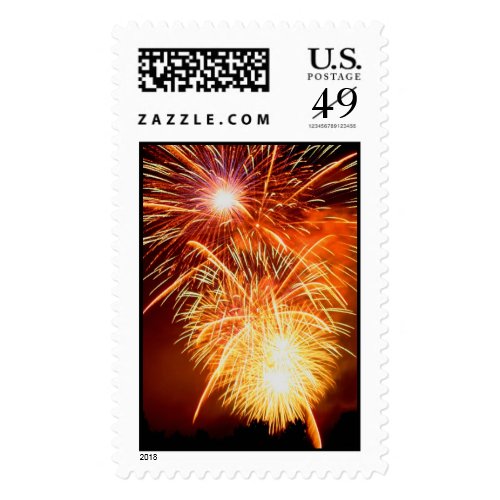 USA Flag and Fireworks Postage Stamp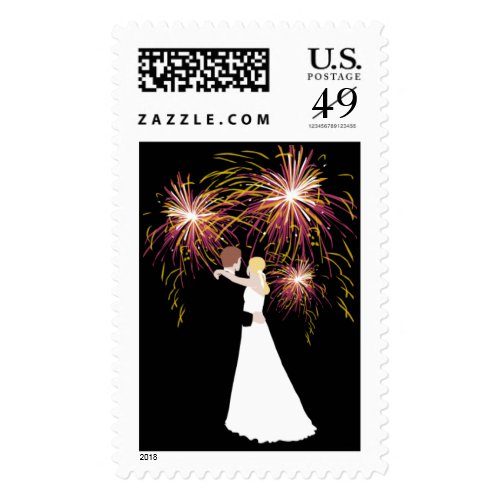 Wedding With Fireworks Postage
Invitations with fireworks!
Your special event is always a time to celebrate!  Whether it's a backyard bar-b-que or a 90th birthday invitation, here are some 4th of July inspired invitations you can customize.  Easily add your own text and details to make this event perfect for you!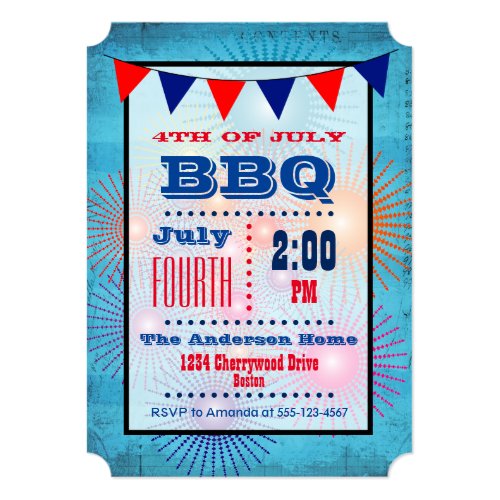 4th of July BBQ Flag and Fireworks Invitation Love the light blue background with the bright red and blue bunting flags.  While it does say the 4th of July, you can change the text to match your own party.  Easy to edit with the customize tool.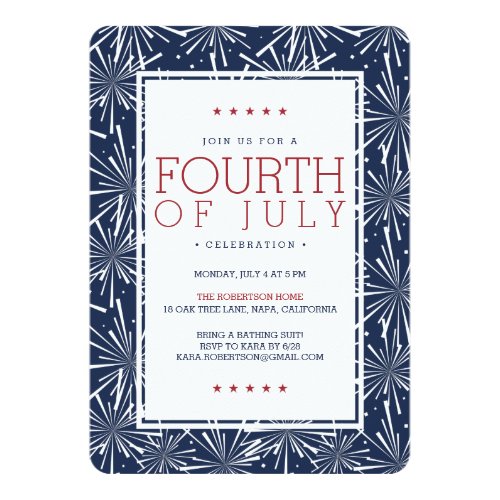 Modern Fireworks Fourth of July Party Card – This has ore of a muted design but cool nonetheless.  Nice contrast with the bright white space for the invitation details.  This would make for a great birthday party invitation too – think about 4th of July, Flag Day, Veteran's Day or even a milestone like 50, or 100 year olds.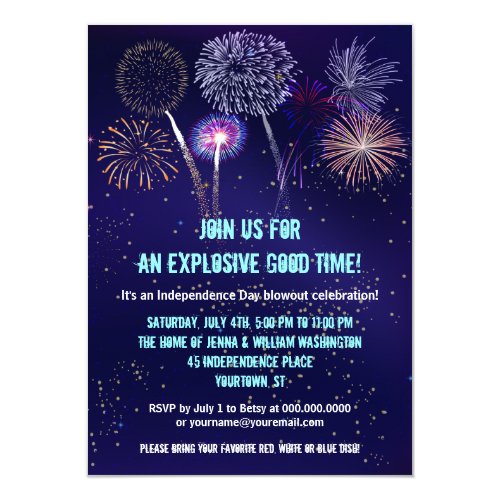 Night Sky Fireworks 4th of July Party Card – The dark blue sky makes an excellent contrast to the colorful streams all exploding on the page.  (Love the small pink and blue firework.)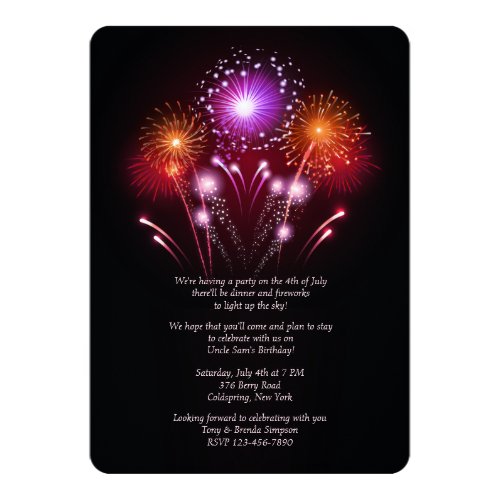 Fireworks Invitation – Super fun design …. pure midnight black with pops of color – orange, purple, pink and white.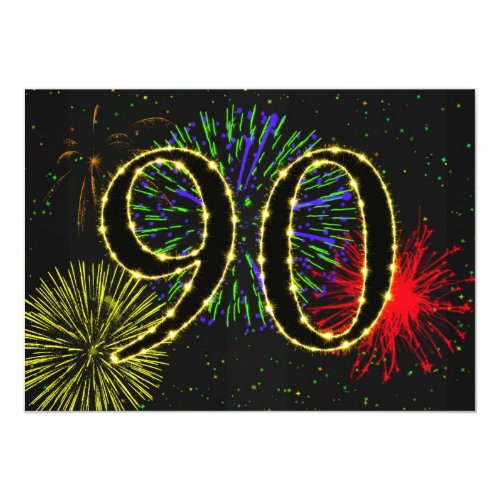 90th birthday party invitation card  Know someone turning 90?  This fun firework design highlights the year front and center with small gold string lights outlining the number 90.  Nice!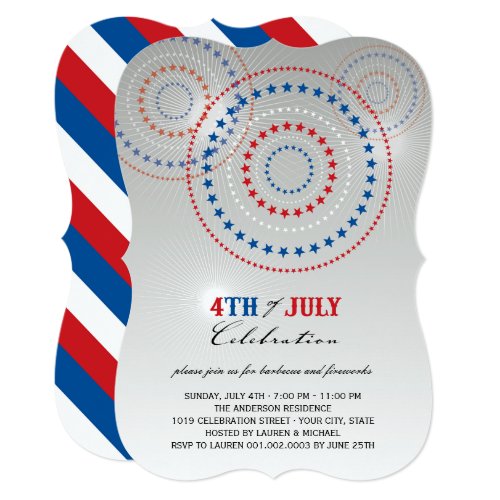 Star Bursts Fireworks Fourth of July Party Invite – Simply an elegant 4th of July celebration design.  Love the circles of stars in red white and blue … fading into the background.  The fonts are perfectly chosen and contrast nicely for the invitation.
Looking for other designs with a bang … ties, shirts or mugs? Here are some explosive designs you're sure to love:
Be sure to follow us on pinterest!
Like us on facebook so we can share sales and new designs.  We'd love to have you visit!