Religious Christmas and Holiday Postage Stamps
Religious postage designs with stars, nativity, wise men and more. Links open in new window where you can personalize and purchase your Christmas Postage Stamps.
All postage stamps are available in 3 sizes and 7 different denominations.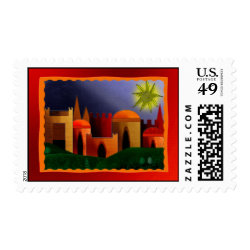 Jerusalem: the City of David is as colorful and welcoming as a children's book in this Christmas postage, with the star of David as a reminder of Jesus's birth.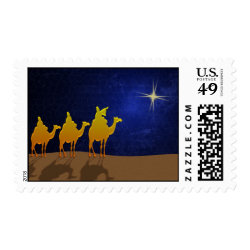 The Three Kings, or Biblical Magi, are shown in fancy, shiny gold, traversing sand dunes in the desert, following yonder star, in this Christian Christmas postage.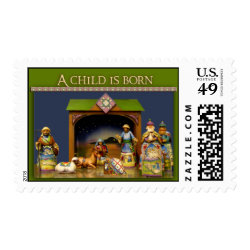 The familiar Christian Nativity scene is the focus of this postage, with three wise men, Jesus, Mary and Joseph in a stable, is shown here with a green accent, while "A Child is Born" is written above.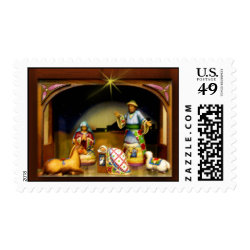 An intimate nativity scene featuring Mary, Joseph, baby Jesus, a sheep and a donkey, with the bright Nativity star shining overhead - the perfect religious Christmas postage stamps.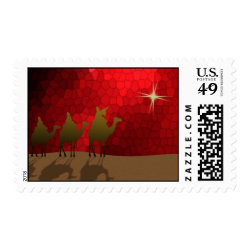 This stylistic rendering of the journey of the three wise men shows them riding on camels, in gold over a golden desert while they follow the star, against an imaginative deep red stained glass.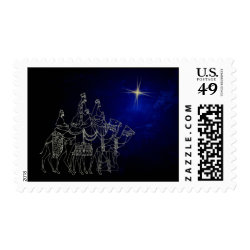 This "Three Magi" postage stamp shows an outline of the kings on their camels, decorated in exotic finery, while they gaze at the Christmas star in a deep blue expanse of starry night sky.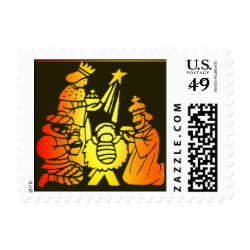 This postage stamp shows a cartoon version of the three kings adoring the baby Jesus, presenting their gifts of gold, frankincense and myrrh. In warm tones of gold, yellow and black, this postage will make an impression.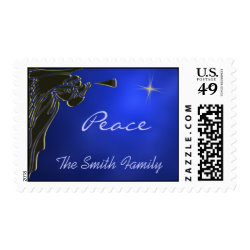 This deep blue Christmas postage features a herald angel blowing a trumpet towards the Christmas star, while the word "Peace" makes a powerful spiritual statement. Customizable with your own family name and message!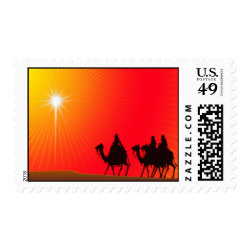 The three wise men are silhouetted on their camels, traversing the desert, against a colorful sunset sky, giving one a sense of the journey they undertook to visit the Christ child.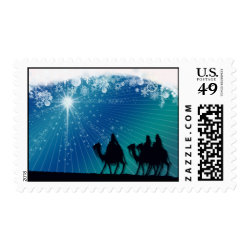 These three wise men postage stamps add a bit of festive winter holiday feel, with snowflakes, an ice blue Christmas star emitting wintry rays of light, and a night sky reminiscent of the Aurora Borealis.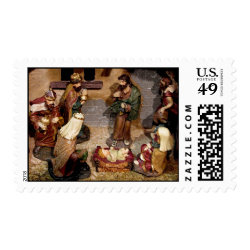 A realistic Nativity scene makes for touching Christmas postage, in calming earth tones of brown, red and green. The animals and visitors surround the Christ child, a reminder of the true meaning of Christmas.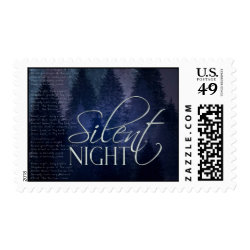 This classy, beautiful "Silent Night" postage stamps feature a dark, quiet forest lit with celestial, calm starlight, a reminder of the peace, love and joy that should surround us at Christmastime.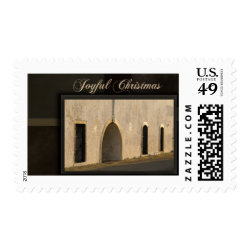 "Joyful Christmas" promises this simple cream and brown photographic postage stamp, reminiscent of the holy walls and buildings in the ancient cities of Jerusalem and Bethlehem.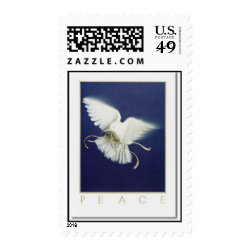 A beautiful, serene dove in flight is an icon of Peace in this simple, blue and white spiritual Christmas postage by
gourds
.