50th "Golden" Wedding Anniversary Postage
Photo 50th Anniversary Postage - Here's a fun idea for your Golden Anniversary invitations. Use the original wedding photo to make a unique and memorable anniversary postage stamp for the happy couple.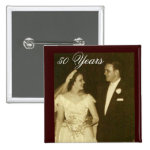 These buttons/pins are perfect to give out at 50th wedding anniversary parties, as party favors or as a gift.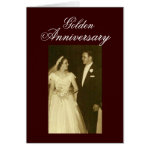 This 50th Anniversary card can be customized with your own beloved wedding photo, and the can personalize the text inside and out for the perfect fiftieth wedding anniversary card or party invitation.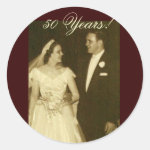 Custom stickers are available as well! Use these on favor bags, in favor packets, or as envelope seals for your 50th wedding anniversary party invites.
50th Wedding Anniversary Postage Designs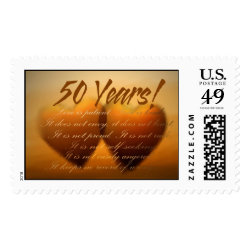 50 Years! Two soft golden hearts touch briefly against a warm, sunset brown and gold background, with the "Love is patient, love is kind..." inspirational love verse from Corinthians screened in elegant script in the foreground. Perfect postage for a golden 50th wedding anniversary!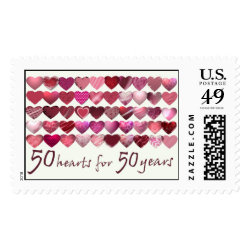 50 Hearts for 50 Years! Fifty pink, red and white hearts, each with its own pattern and unique design - stripes, swirls, polka dots, and more - symbolize each unique and treasured year in your 50-year marriage. Perfect postage for inviting friends and family to your golden anniversary party!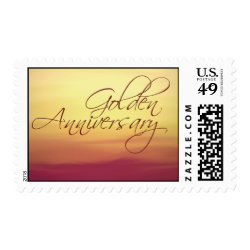 "Golden Anniversary": These postage stamps are perfect for a golden anniversary, with a pale to warm gold background fading in soft paint strokes to a deep, soothing pink, reminiscent of a beautiful sunset. These Golden Anniversary postage stamps will really make your anniversary invitation envelopes pop!
Delicately translucent white leaves fall gently against orange and blue, evocative of day and night, while "Golden Anniversary" is written in white text, in alternating script and serif fonts, for an elegant and natural take on 50th anniversay wedding postage.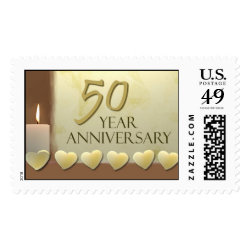 A candle burns against a soft cocoa brown background, while six cream hearts dance below. "50 Year Anniversary" is written in golden script on a textured cream background. This is the perfect postage for your Golden 50th Anniversary!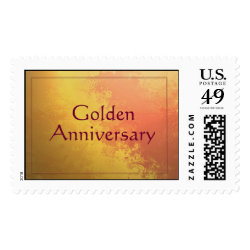 "Golden Anniversary" is written in simple deep red text against a brushed, pretty gold and blush swirly background. This fiftieth wedding anniversary postage is simple and elegant, yet eye-catching with its vibrant colors.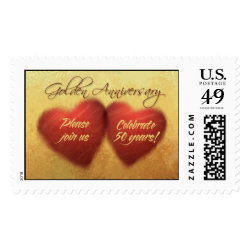 Two soft, deep pink hearts float against a beautiful swirled, brushed gold background, with "Golden Anniversary" written in chocolate brown script, and "Please Join Us" with "Celebrate 50 Years!" written in gold inside the hearts, in these 50th Anniversary invitation stamps.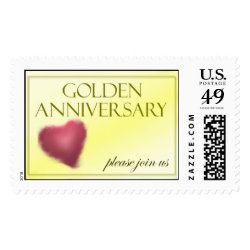 These "Golden Anniversary" USPS postage stamps are perfect for mailing out your 50th wedding anniversary party invitations, with a soft pink heart and script "please join us" against a pale gold, shiny background.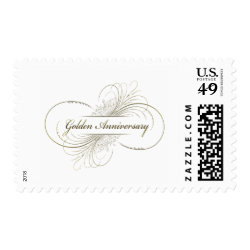 This simple and chic Golden Anniversary postage features script text and ornate floral and swirl flourishes in a dark, classy gold color against a plain white background. Perfect for 50th wedding anniversary celebrations, these stamps are at once stylish and timeless in their elegant sophistication.
More Postage
Custom Postage
Anniversary Postage
Graduation
Pet Designs
Family Recipe Binder
What Our Clients Say
"@perfectpostage My customized holiday stamps came today .. Love them ! Whhooo hooo !"
Andrinique Events (read more)
Request a Custom Design
We'll make it - just for you!