Graduation Postage Templates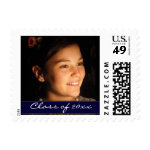 Personalize this graduation postage with your own photo! Your darling grad's senior photo will look great on a postage stamp, with a blue banner reading "Class of 20XX".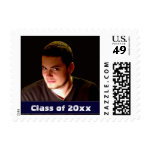 Add your own photo to these graduation postage stamps! Send out your graduation announcements in style with these stamps, which can be customized with a photo and "Class of 20XX".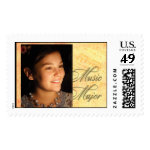 For a music major about to graduate, send out these unique stamps with sheet music in the cream background and "Music Major" in fancy script. Customize the postage with his or her photo.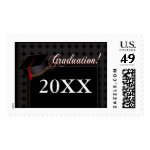 These "Graduation!" stamps feature the classic symbol of graduation, a cap and tassel against a classy black and gray background. Customize with your son or daughter's year of graduation!
A cap with red tassel and customizable "20XX" make these postage stamps perfect for sending out invitations to a graduation party from high school or college.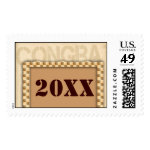 "20XX", customizable with the year of graduation, is surrounded by a tan and brown checkerboard pattern frame, with "Congrat..." written is distressed, stenciled lettering.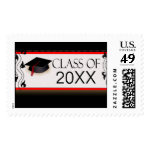 "Class of 20XX" is customizable with the year of graduation in these red and black graduation stamps, decorated with flourishes and a square graduation cap and tassel.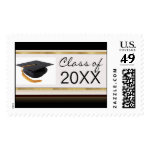 Shiny gold and black are the colors of this custom graduation postage, featuring a square black graduate's hat and gold tassel. Personalize "Class of 20XX" with your own year!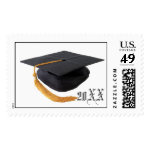 This simple graduation postage features a square black graduation hat with a gold tassel, and "20XX" in an old-fashioned Gothic font often used on diplomas.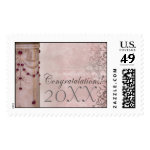 These elegant, custom graduation stamps feature a marble pillar studded with red rubies, decorated with swirls and "Congratulations!" in script. Customize the year for a personal touch.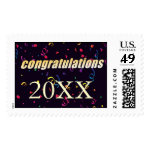 Confetti falls everywhere in the festive spirit to be expected when someone graduates from high school or college! "Congratulations" and a customizable "20XX" are written over the colorful confetti.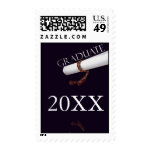 This sleek navy graduation postage features a diploma with "Graduate" and "20XX", which you can easily change to your year to make this graduation postage custom!
More Postage
Custom Postage
Anniversary Postage
Graduation
Pet Designs
Family Recipe Binder
What Our Clients Say
"This is beautiful!!! Thank you for your quick response."
Marisol, NY (read more)
Request a Custom Design
We'll make it - just for you!