Beach Themed Wedding Postage
Beach Postage Stamps
Set the tone for your beach or tropical paradise wedding with these ocean and beach themed postage stamps. Each stamp can be customized with your date, initials ... or however you like.
Beach Themed Design Sets
Lovely Seashell Design Ideas




Beach love: two seashells symbolize a couple's love, while handwritten words are faded in the background, in this delightfully creamy, destination wedding design. Available in postage stamps, sticker seals, postcards and greeting cards!
Blue Seashell Wedding Cake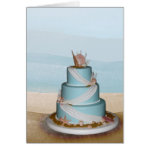 Want to see more?
If, after all that, you still didn't find the beach design you are looking for, then go explore all Zazzle has to offer in the way of beach-themed gifts and designs!
Or contact us for a personalized beach design!
Wedding Postage
Monograms
Months
Themes
Nationalities
Wedding-Related
Invitations, Apparel & More!
Our Newsletter
Enter your email to get discounts, coupons and ideas:

Featured in Your Wedding Day magazine!
What Our Clients Say
"Anne - I received the custom stamps yesterday. I love them! You were so great to work with. You responded to all of my emails quickly and were so helpful. Thanks again! "
Karen, TX (read more)
Request a Custom Design
We'll make it - just for you!