On October 13, the USPS Christmas postage stamp design for 2011 will go on sale.
As you can see, the new bright colored foursome of Christmas baubles has a retro look giving us a "something old feeling" in the new design. Linda Fountain, an illustrator from Hilton Head Island, S.C., created these designs which were sketched, rendered with cut paper and then scanned into digital files. These stamps – as with all the new first class issues – are "forever stamps" meaning they can be used for mailings even if postage prices go up in the future.
USPS Christmas Postage stamps available now:
The traditional Christmas stamp being offered by the USPS in 2011 is by one of the great masters of the Italian Renaissance, Raphael. The stamp features a detail from Raphael's painting, Madonna of the Candelabra, showcasing the Madonna and Child. Just look how amazing [and beautiful!] this is … perfect for your Christmas cards. The best part is that it's a Forever stamp so if you have some left over, you can still use them if postage prices increase.
Angel with Lute
The striking Angel with Lute stamp from last year is available on the USPS site now at the current .44 first class postage rate for 2011. This lovely artwork features a detail of a fragment from a circa 1480 fresco by Melozzo da Forlí. Although few of Melozzo's works have survived, his depictions of musical angels have enjoyed newfound popularity.
Madonna and Sleeping Child
The peaceful and lovely Madonna and Sleeping Child postage stamp is also available right now on the USPS site at the current first class 44 cent rate.
Pinecones and Evergreen Tree Forever Stamps
The forever pinecone Christmas stamps, introduced last year, ares also available for sale on the USPS site. With four different images of pinecones and evergreens, these stamps go nicely with other mailings in addition to the holidays.
**************************************************************************************
Custom Postage Stamps – featuring old fashioned angels (and a dove!)
Angel stamps are increasingly popular as we've had many requests for custom angel designs. So, we are featuring some of our favorite old fashioned Christmas angel designs for this year's holiday mailings. These custom postage stamps do cost more than the USPS stamps but you can purchase as little as one sheet (20 stamps.) You can also customize these with your own text making your mailings a little more special.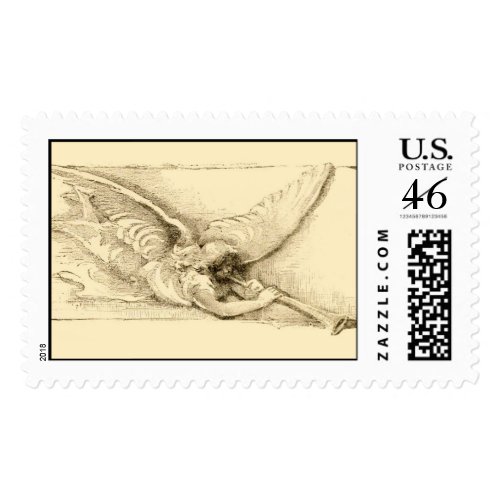 Soft cream and charcoal drawing of angel spreading her wings as she plays a beautiful trumpet. Easy and peaceful drawing make this a perfect choice for your Christmas card mailings.
Two cherubic angels with soft white wings looking lovingly up to the heavens. Holly berry and green Christmas leaves accent the angels.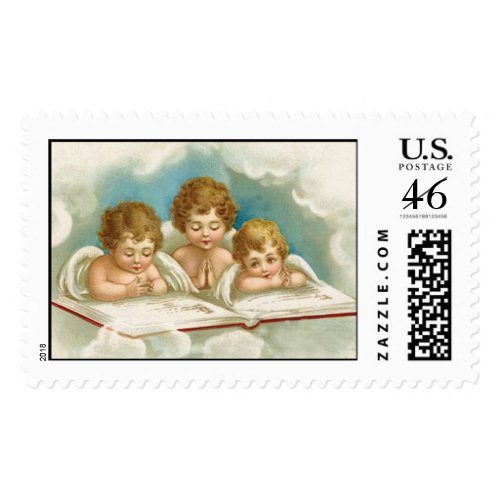 Three baby angels softly floating in the blue sky with white puffy clouds over their heads. They are intently reading a big re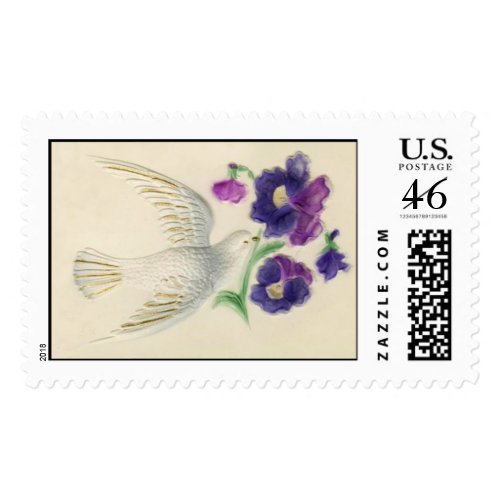 Lovely white dove with peaceful message holding beautiful purple and blue flowers. Soft and peace loving design – perfect for your holiday mailings.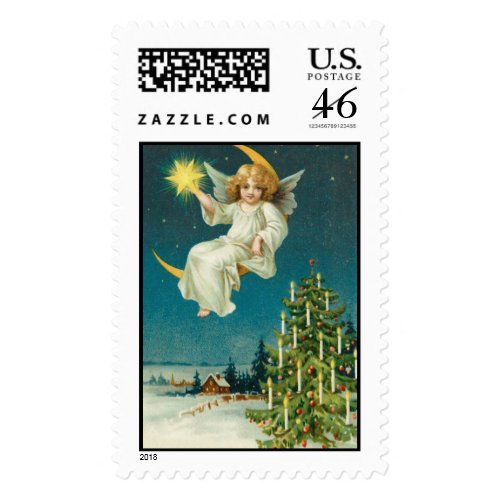 Delciate angel sitting softly on a crescent moon holding a gold brightly lit star. Beneath her is a snowy country scene. This angel postage stamp will make a great addition to your Christmas cards.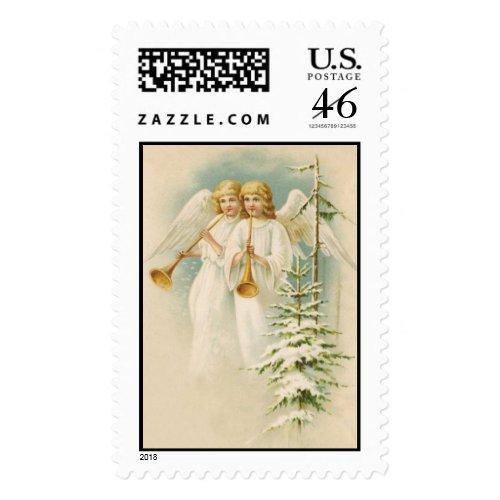 Two white angels with gold trumpets softly playing music in front of a snow filled evergreen tree.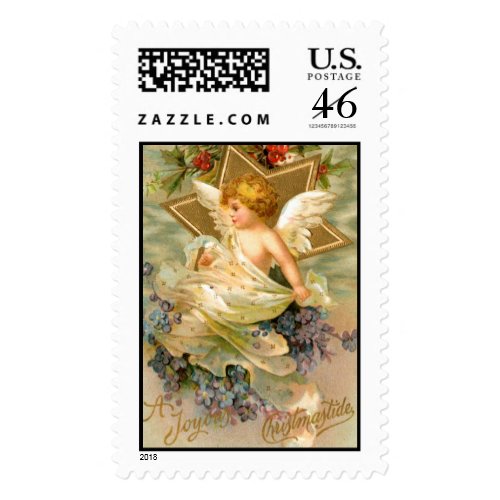 Cherubic angel with soft flowing wings in front of a beautiful gold star. Red holly berries accent this design.
Beautiful angel with soft blue robe ringing a teal Christmas bell. Lovely image for your postage stamps to mail your religious Christmas cards.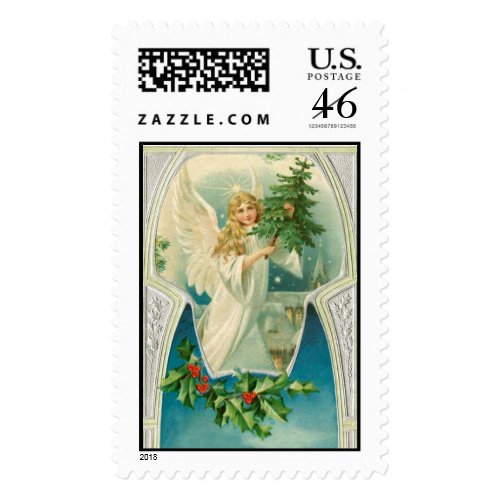 White angel holding small Christmas tree is accented against a bright blue sky and holly berry decoration. These Christmas stamps come in sheets of 20 and you can purchase as little as one sheet.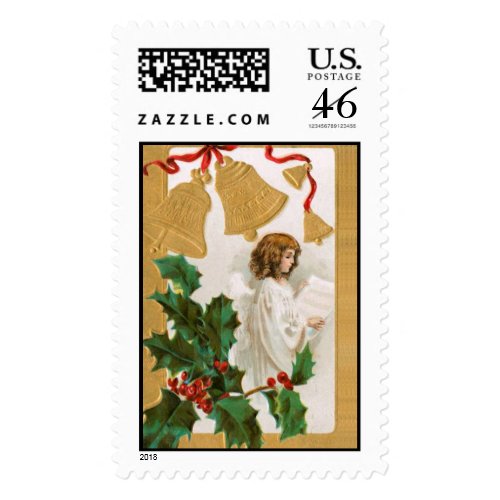 Angel in white robe has three gold bells with red ribbon over her head. Holly berry accents add to this lovely image for religious Christmas stamps.
Still need more designs? Whether you're looking for modern, old fashioned, Santa or the three wise men, browse thousands of Christmas theme postage stamps. As always, contact us at Perfect Postage if we can help with any of your Christmas or Holiday designs (we love custom requests!)