Add that special warmth!
String lights add that special warmth and charm to wedding postage – and of course, invitations. While these lights really never go out of style, it seems like the designs just keep getting prettier each year. From summer tropical beach to  fall barnyard weddings, you'll love the homey feel that string lights add to your special event.  Because they are just a little bit magical, they bring a little smile to your special event.   So – save the date and start to browse some beautiful string light designs!
Summer Sunset Palm Beach String Lights Love Script Postage   Sunset over the ocean with the word Love in a script font.  While this could be used for wedding, it would also be perfect for a save the date, anniversary, engagement or more.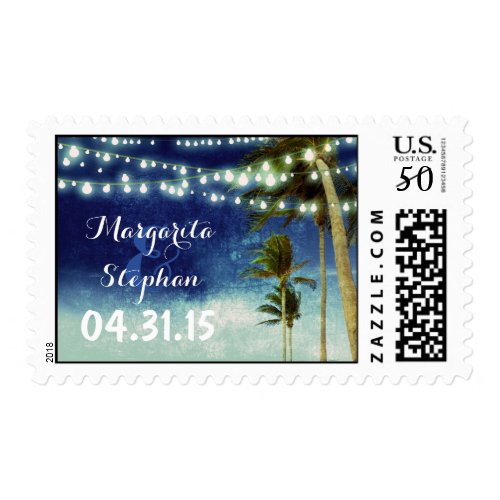 beach wedding navy ombre postage stamps Navy background, palm trees, and lights hanging on a string make for the perfect beach theme wedding postage stamp.  And don't those clouds look amazing?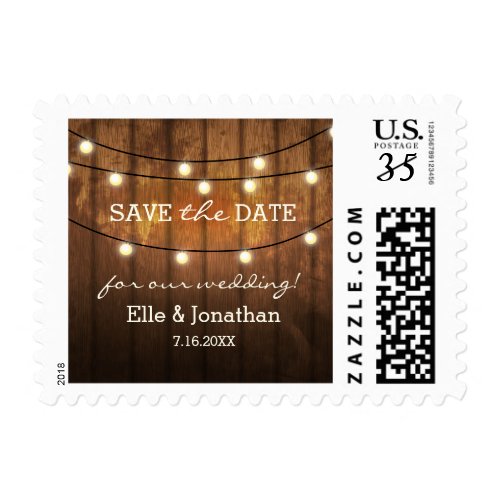 Rustic Wedding Save The Date Postcard Wood Lights Postage While many wood theme stamps are available, this one has a special glow.  Probably one of the easiest templates – just add your names and date!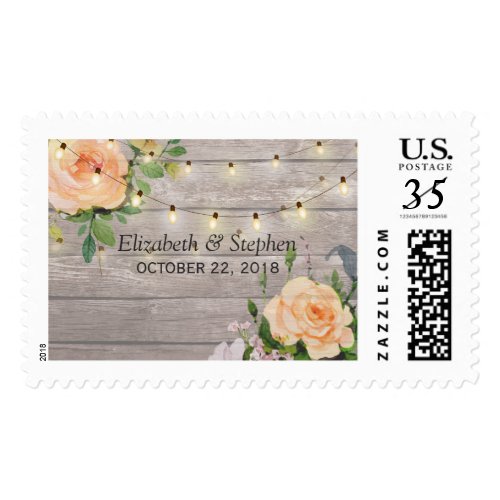 Wood Floral Twinkle Lights Wedding Shower Postage Style meets country charm. Another lovely design with warmth – and flowers!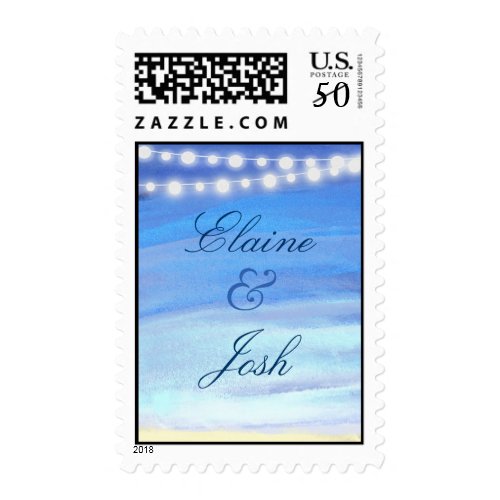 Warm lights on the water postage Watercolor effect gives a soft, flowy feeling.  And who doesn't love lights on the ocean?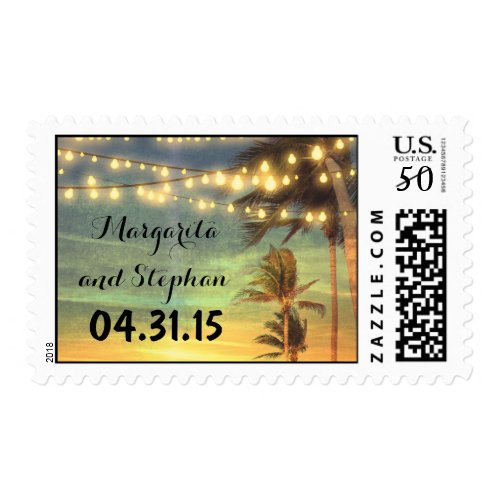 Sunset on the beach wedding sunset postage stamps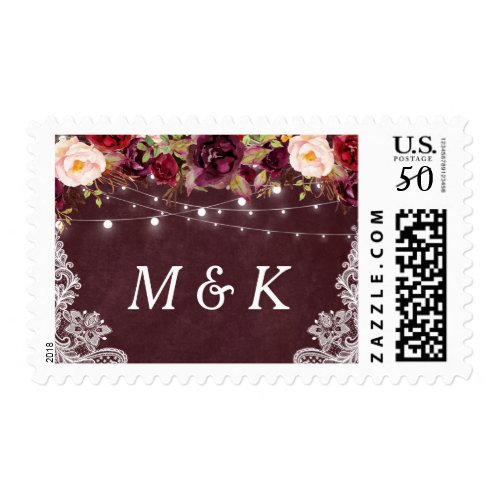 Burgundy Floral Lights Wedding Monogram Postage
Summer Lights Wedding Love Postage
Tropical Vintage Beach Lights Wedding Postage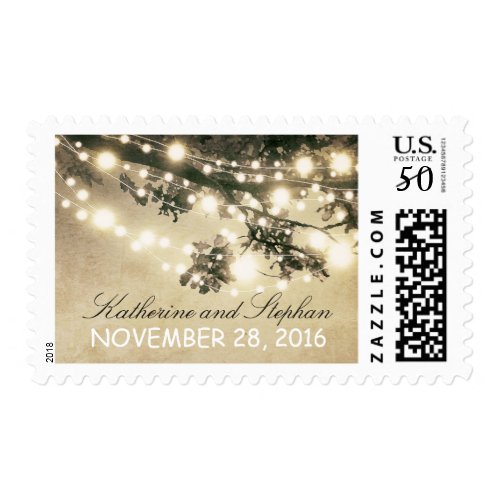 Elegant rustic wedding postage stamp
Khaki Lights Wedding Monogram Postage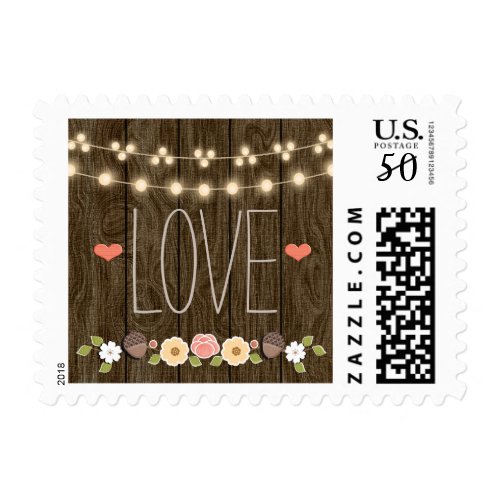 Blush String of Lights Rustic Fall Love Wedding Postage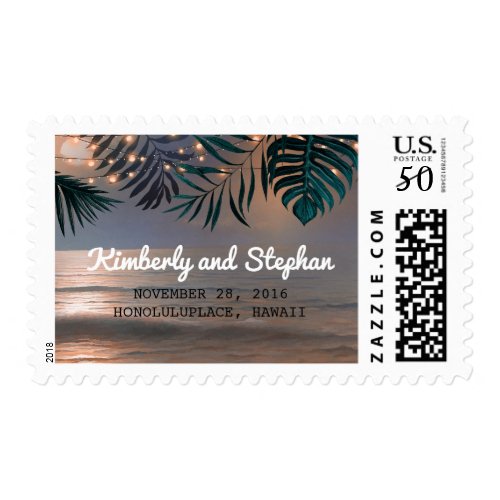 Sunset and Palm String Lights Wedding Postage
And, don't forget the RSVPs!  Most of the designs shown also include a matching RSVP – especially important when you're wanting the return envelopes to match.
Soft Lights Wedding RSVP Postage
Wedding Invitations with soft lights
Almost all of the postage stamp designs shown above also having matching wedding invitations, rsvp cards, save the date designs and more.  Here are some string light invitations that have been hand selected that bring out warmth and charm.   While these designs are simple to edit, they are beautiful too.  A fairytale wedding, sunset beach, rustic barn … these invitations will bring a smile to your guests when they open the envelope.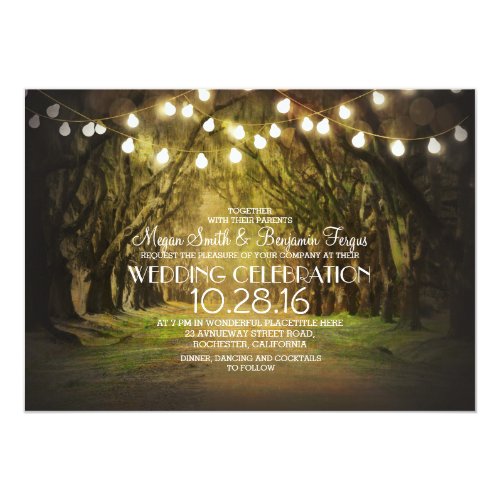 Twinkle Lights Trees Path Rustic Wedding Invites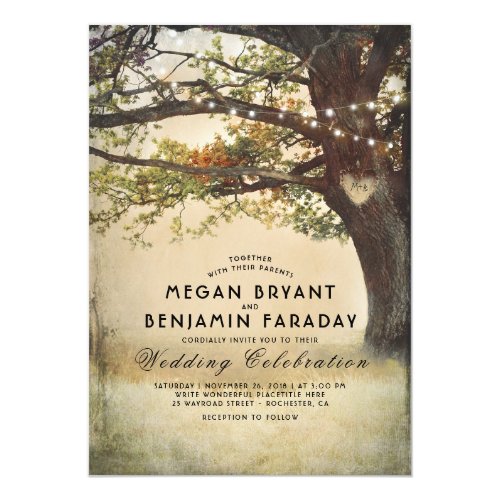 Fall Tree String of Lights Wedding Card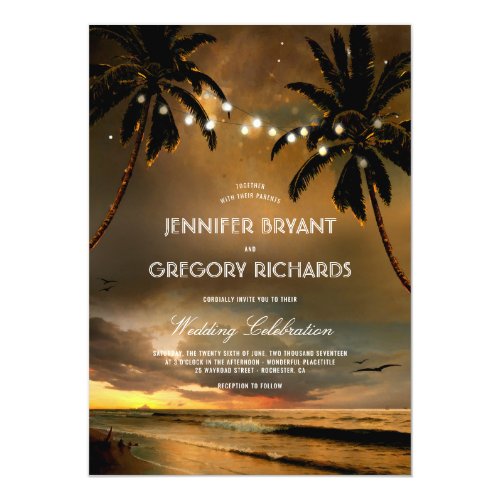 Vintage Beach Sunset | Warm Lights Palms Wedding Card Twin palm trees on opposite sides joined together by the soft glowing lights while the ocean waves lap gently.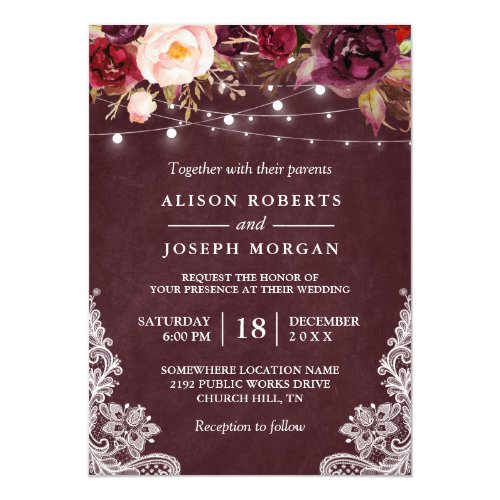 Marsala Burgundy Floral Lace Lights Wedding Card Dark burgundy background showcases the white lace and roses while lovely soft bulbs accent the top.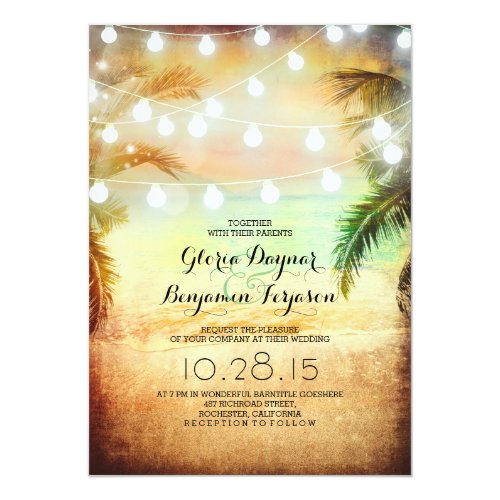 Sunset Beach Wedding Invitation This color combination is fantastic. Seems like a beach fantasy.  Best of all, it's simple to customize.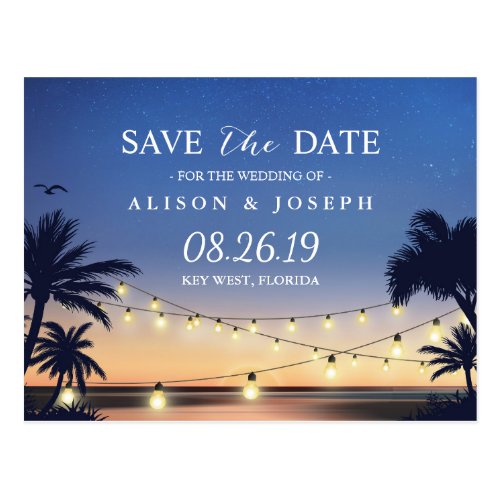 Romantic Beach Sunset String Lights Save the Date Postcard This design would be perfect for a destination wedding. Whether you're sailing away for a wedding or getting married on the sand, we love the romance of this design.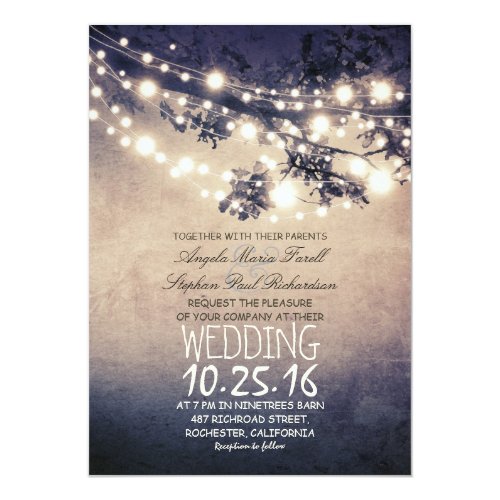 Rustic tree branches & string lights wedding card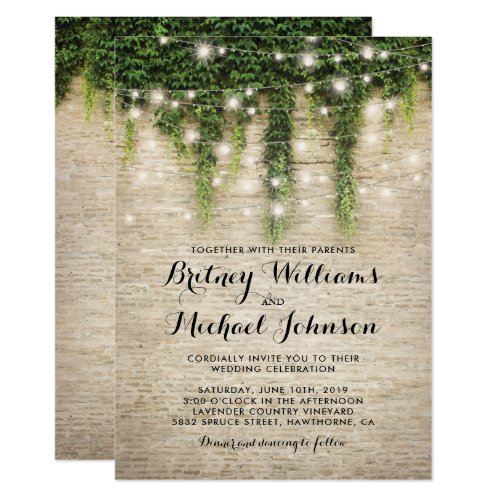 Chateau Stone Church Lights Wedding Card Beautiful green vines flow over the stone church while twinkling lights shine through.  Probably one of the most beautiful contrasts we've seen.  The dark green against the white stone is fantastic.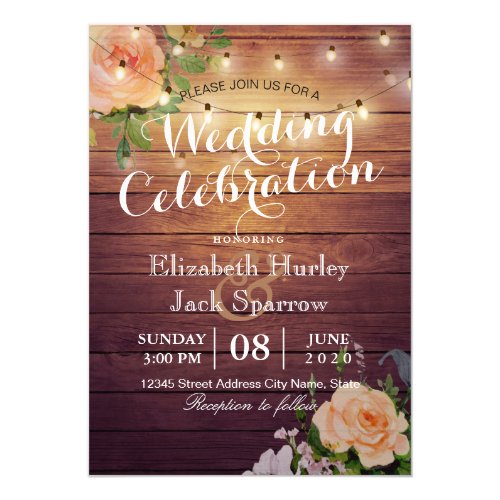 Wedding Invitation Floral Country with warmth and charm because of the soft faint glow of string lights.  Another charming idea for a barn or rustic themed wedding.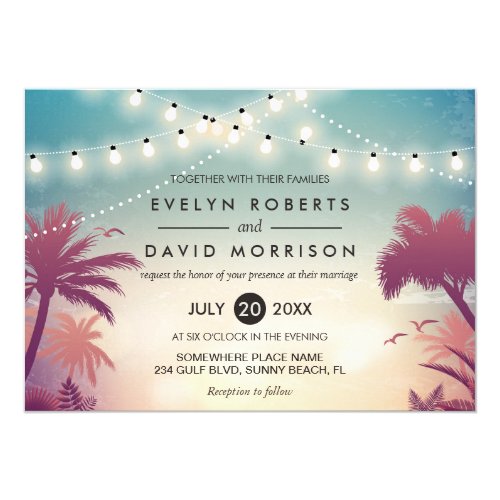 Summer Lights Palm Tree Outdoor Wedding Card  First of all, if you're having a beach wedding, there are bound to be palm trees.While the trees are an unusual shade of burgundy, the look is stunning against the sunset background.  And, like the other templates, this one is simple to customize.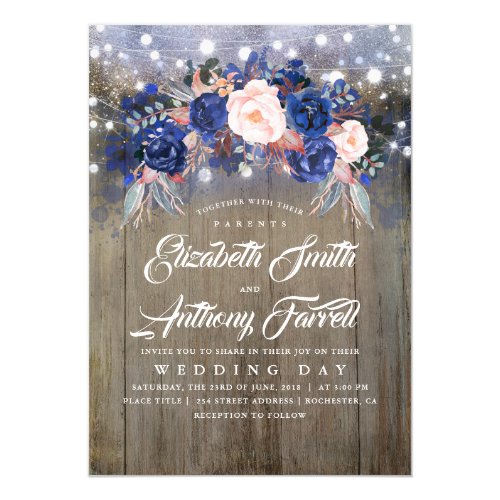 Navy Floral Rustic Lights Wedding Card Wow! The floral arrangement is stunning with blue and peach accents.  Another great template for your wedding day invitations.
Bridal Shower Invitations with lights
Another fun use of the soft lights  is for bridal shower invitations  Here the white glow is over the shades of blue of the ocean.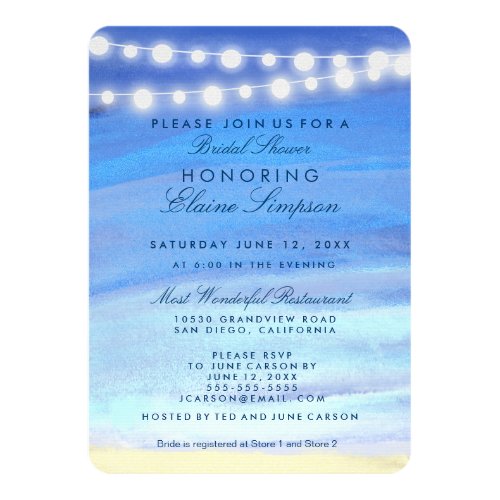 Looking for more string lights for your special occasion?
While we have showcased invitations, postage stamps and postcards, there are thousands more ways to customize your wedding or special occasion with lights.  From ribbons to stickers, you'll find thousands more designs.  Another great feature of most designs is that you can personalize them with your own text, photos or monogram.  What's more, your satisfaction is guaranteed.   Finally, if you're looking for a design that you don't see offered here, just contact us at www.perfectpostage.com.  We'll be glad to help!